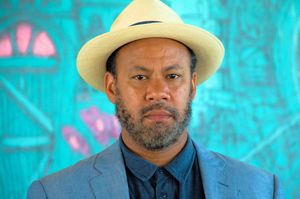 Mike Reed (b. Bielefeld, Germany May 26, 1974) is a musician, composer, bandleader and arts presenter based in Chicago. Over the last two decades he has emerged as a dominant force within Chicago's diverse artistic community, both through the music he makes and the live events he produces. In addition to leading or co-leading several working bands, all rooted deeply in jazz and improvised music, he's founding director of the Pitchfork Music Festival, the current programming chair of the Chicago Jazz Festival, and the owner and director of the acclaimed performing arts venue Constellation. He is a devoted cultural advocate committed to providing platforms for artistic expression unhindered by commercial pressures. In 2016 he also became the owner of the Hungry Brain, a cozy neighborhood tavern that's been a fulcrum for live creative music and socially-driven public programs.

His long-running post-bop quartet People, Places & Things has collaborated with guest musicians like Ira Sullivan, Julian Priester, Art Hoyle, Craig Taborn, and Matthew Shipp over the years. An expanded iteration of that project called Flesh & Bone, augmented by additional horn players and vocalist/poet Marvin Tate Reed, has pushed the project in new directions. The endeavor was initiated by the leader's deeply personal reaction to a race riot he found himself in the midst of in the town of Prerov in the Czech Republic during a 2009 tour. Reed also leads an improvisation-heavy quintet called Loose Assembly as well as the expansive octet Living by Lanterns (with includes guitarist Mary Halvorson, cornetist Taylor Ho Bynum, drummer Tomas Fujiwara, and saxophonist Ingrid Laubrock). Over the last couple of years he's played in Artifacts, a collective trio with flutist Nicole Mitchell and cellist Tomeka Reid, devoted to interpreting music by members of the AACM—a body of work rarely interpreted by musicians other than the composers.
In addition to forging ongoing collaborative relationships with first-wave AACM figures like the legendary reedist Roscoe Mitchell and trumpeter Wadada Leo Smith, Reed remains a lynchpin in his native city, working as a key member of vibraphonist Jason Adasiewicz's trio Sun Rooms as well as the octet led by bassist Jason Roebke. Over the years he was worked with Chicago musicians like guitarist Jeff Parker, flutist Nicole Mitchell, saxophonists Fred Anderson, and cornetist Rob Mazurek. He's a member of Chicago's Association for the Advancement of Creative Musicians (AACM), where he served as vice-chairperson between 2009-2011. Downbeat Magazine has regularly recognized Reed as Jazz Artist, Rising Star in in its annual Critics Poll since 2009, and one of the 80 Best Things About Jazz in its 80th Anniversary issue. In 2010 The Chicago Tribune named Reed as one of its Chicagoans of the year and in 2014 Chicago Magazine cited him as the 94th most powerful and influential person in the city. In 2016 Reed was awarded a prestigious United States Artists fellowship from the Doris Duke Foundation, recognized for his "unique artistic voice that expands the creative environment of the United States."

Reed's organizational talents first surfaced when he and cornetist Josh Berman launched the Sunday Transmission series at the Hungry Brain in 2000. That weekly series as remained a crucial nexus of performance and socializing for jazz and improvised musicians in Chicago, and it opened the door for Reed's entrepreneurial side. In 2005 he parlayed his increased experience into large multi-day music festivals in partnership with the influential music website Pitchfork; the event is now one of the most important summer music festivals in the world. Soon he joined the committee that programs the annual Chicago Jazz Festival—the largest free jazz festival in the world. He also helped launch the city's Downtown Sound music series, a free weekly concert program presented in Millennium Park that has featured an eclectic mix of indie rock, world music, and contemporary soul, and he remains involved with its programming.

His interest in programming a widening range of performance reached its apex in the spring of 2013 when he opened Constellation, a multi-room venue that rapidly made its mark on the local arts scene. From the outset he partnered with the renowned Chicago dance organization Links Hall to program nightly events. As a building partner, Links Hall brings decades of experience fostering artistic growth in dance, performance art, film and other media, while Reed has quickly established Constellation as a hothouse for jazz, improvised, experimental, and contemporary classical music. Howard Reich of the Chicago Tribune has called it, "one of the most important rooms in the city," and in its first year in business, the Chicago Reader named the space the Best New Music Venue.
"The Chicago drummer Mike Reed has an abiding interest in the jazz heritage of his hometown, and with the excellent pianoless quartet People, Places & Things — featuring the alto saxophonist Greg Ward, the tenor saxophonist Tim Halde
man and the bassist Jason Roebke — he interrogates that history from multiple angles." – Nate Chinen, The New York Times

"A multithreat musician who thrives as soloist, bandleader, presenter and global talent scout, Reed has emerged as a center of gravity for music in Chicago (and beyond)." - Howard Reich, The Chicago Tribune
"It's a sign that these days, Mike Reed's People, Places and Things don't just preserve the Chicago tradition; they're helping extend it." - Kevin Whitehead, Fresh Air NPR
"...takes late '50s tunes (and Reed's charts) and works them over with modern, casually audacious language. In all, eight musicians were on stage: The arrangements take advantage of their quantity, while the solos benefit from their quality. This disc is third in a trilogy of PP&T records; all were so taut, so unpretentiously joyous, that a fourth is already on the way." — Patrick Jarenwattananon, NPR
"more evidence of his talents, demonstrating his arranging and composing skills as well as his continuing development as a brilliant percussionist on the rise." - Troy Collins, All About Jazz